One of 13 graduate students, Allison collaborated in this seven-day interdisciplinary experiment, proposed by CalArts Dean of Dance Dimitri Chamblas and art historian Sigrid Pawelke and inspired by the radical pedagogies of the Bauhaus (1919-1933) and Black Mountain College (1933-1957), where each member fluidly changed roles throughout the week: from participant to session leader and from originator to critic.

This pedagogical experiment entitled UNLIMITED BODIES brings together participants from various backgrounds and disciplines (critical studies, dance, theater, visual arts) to multiply perspectives. For the occasion, Performa partners with CalArts School of Dance, NYU, University of Giessen, and Paris École des Beaux-Arts. Participants meet every day at the Performa Hub and conduct throughout the day private and public sessions structured around themes such as: the anthropogenic body, artificial intelligence, and migration. Throughout the week, UNLIMITED BODIES evolves according to its participants' inputs with each person actively contributing to the program by intermittently taking on the role of teacher and suggesting group actions, visits, people to meet or readings to discuss. For seven days, New York City is their campus.


Click to View Website ︎︎︎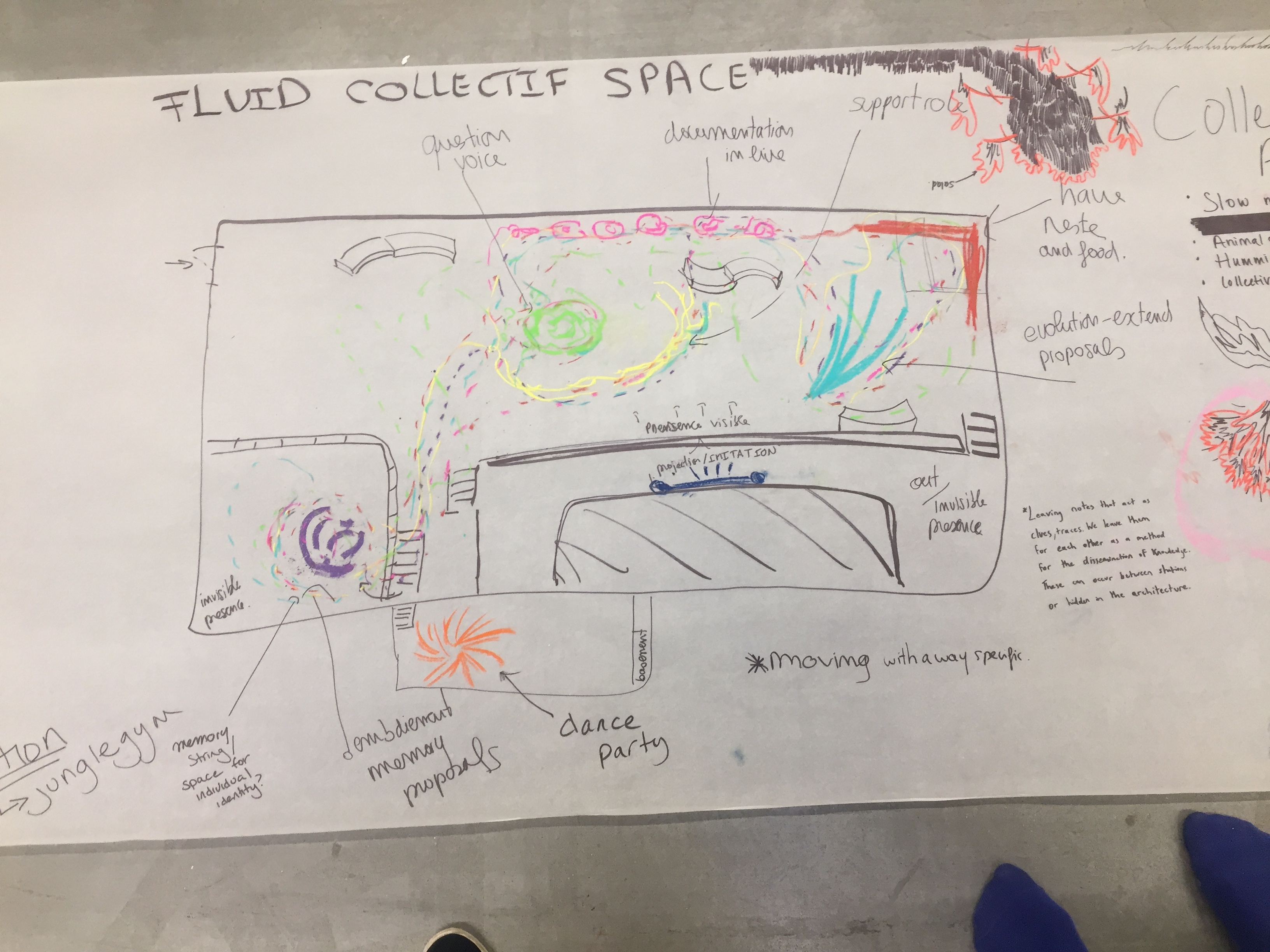 Unlimited Bodies final day Public Presentation at Performa 19's Hub, November 2019. Photos by Paula Court.
---

uncovering my movement biases with motion capture



Dancing with My Data: Dancing with My Self, choreographed by Allison Costa and performed at Barnard College's Senior Creative Thesis Dance Concert, March 2019. Photos by Jo Chiang.
Exploring cyclical feedback between creativity and computation, Allison used the Perception Neuron and Kinect motion capture devices to record themself improvising a total of 27 times. All projections are unanimated renderings of that motion capture data, which they analyzed until they were able to calculate 4 trends consistent throughout their improvisations. The graphs depicting these trends are also projected. Everything you see is Allison's actual movement, with their live structured improvisation emphasizing the tension generated from a hyperawareness of their movement biases.
Choreographer: Allison Costa

Music/Musician: "Beasts of the Southern Wild Redux" original music by Dan Romer and Benh Zeitlin remixed by Allison Costa

Performed by: Allison Costa

Lighting Design by: Tricia Toliver

Projection Design by: Guy de Lancey and Allison Costa

Creative Advisors: Guy de Lancey, Gabri Christa and Caroline Fermin

With Appreciation for Technical Advice: LaJuné McMillian
---
Catalyst Abandoned, choreographed by Allison Costa, Cobie Kinnish, Gabriel Sinclair, Jazmyn Carter, and Thalia Livingstone and performed at the Victorian College of the Arts Choreographic Process into Performance Presentation, May 2018. Photos by Kyle Ramboyong.
Allison choreographed and performed "Catalyst Abandoned" in collaboration with Cobie Kinnish, Gabriel Sinclair, Jazmyn Carter, and Thalia Livingstone, as part of their course of study at University of Melbourne's Victorian College of the Arts, Australia during Spring 2018.


Program Note:
The project was inspired by the art installation "The Event of a Thread" by Ann Hamilton, which intrigued us for two main reasons. First was an idea proposed by the artist who stated that her work was not art until people interacted with it. The concept of the instillation's potential energy and its dependency on interaction is what led us to the bands we use in our dance – they too have the potential for energy (providing both resistive and spring forces), however, they can only achieve this dynamism when manipulated by people. Secondly, we appreciated that the interaction of the three main components of the instillation – i.e. the swings, pulleys, and the large sheet – all had key roles and possibility for movement individually, yet when combined created something with greater freedom. We incorporated this idea by progressing the interaction with the bands throughout our work. We begin exploring the potential for swing in our own bodies without the aid or detriment of the bands, yet still in relation to them. In this part we are much like the swings – free but still bound to a set of parameters. In the next part of the dance, we interact as free cogs within the pulley system of the bands. We demonstrate multiple configurations of our bodies, and yet with each, our movements affect all the members of our group and are restricted by the elastic pull. In the final section of our work, we are pulled outside out personal kinospheres and are able to perform steps that would be impossible without the bands. This ultimate freedom is only achieved with everyone present, and so as dancers leave the stage, the potential of our movement decreases. Ultimately, all that is left are the bands, much like the instillation after the gallery closes.
---
Allison performed for Barnard/Columbia Dances at Miller and Barnard/Columbia Dances at New York Live Arts from 2017-2019. They danced in "Roses" by Gabri Christa, "Say My Name" by Antonia Franceschi, "At the Anterior Edge" by Okwui Okpokwasili, "Fog" by David Dorfman, and "Imagine You're a Mouse" by Neta Pulvermacher.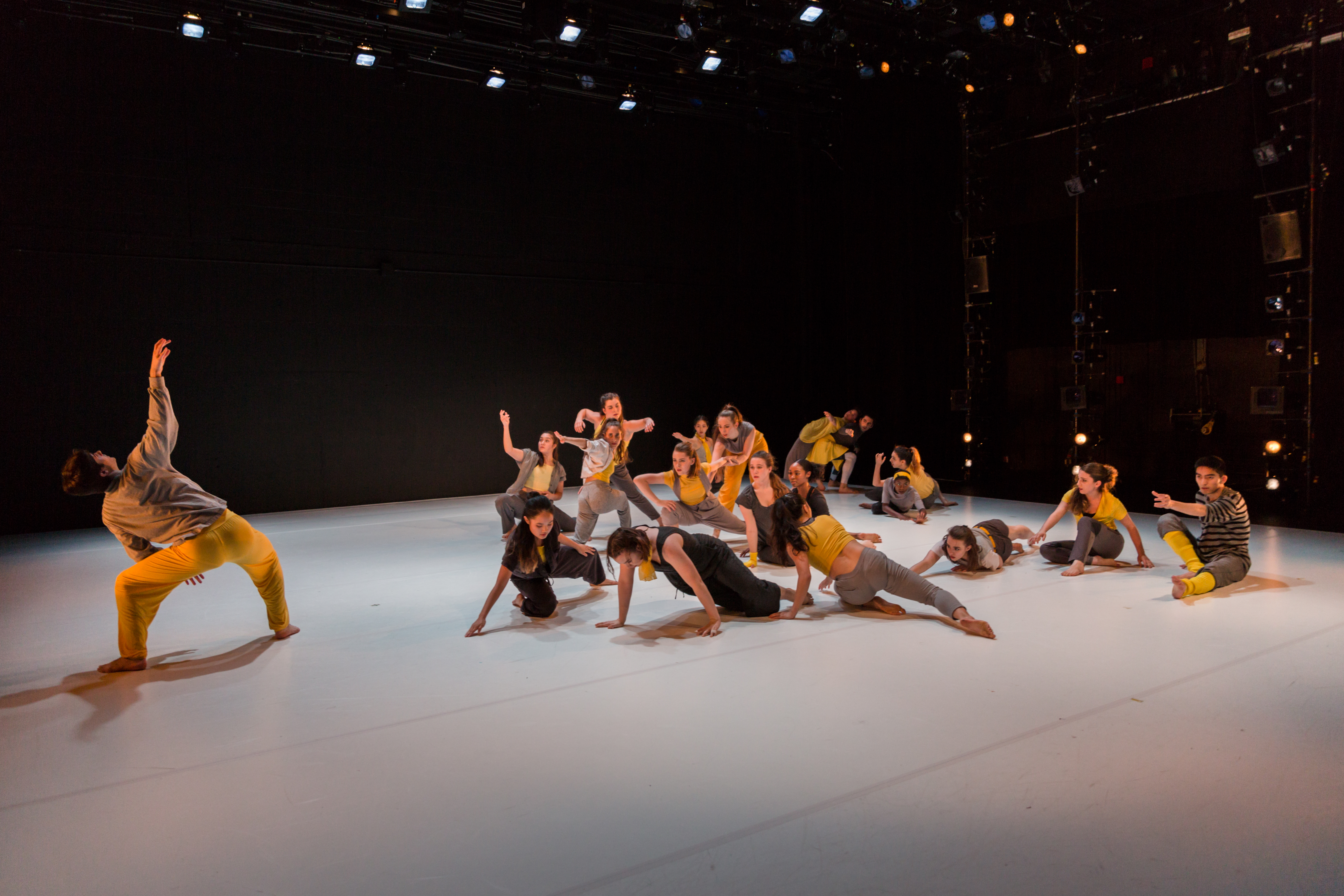 Photos by Julieta Cervantes and Jo Chiang.
(Please double click on images for more information.)