a 3D living gallery of movement and design


Screenshots of Open Mouths: The Last Organism's interactive website and 3D virtual gallery space, August 2020.
---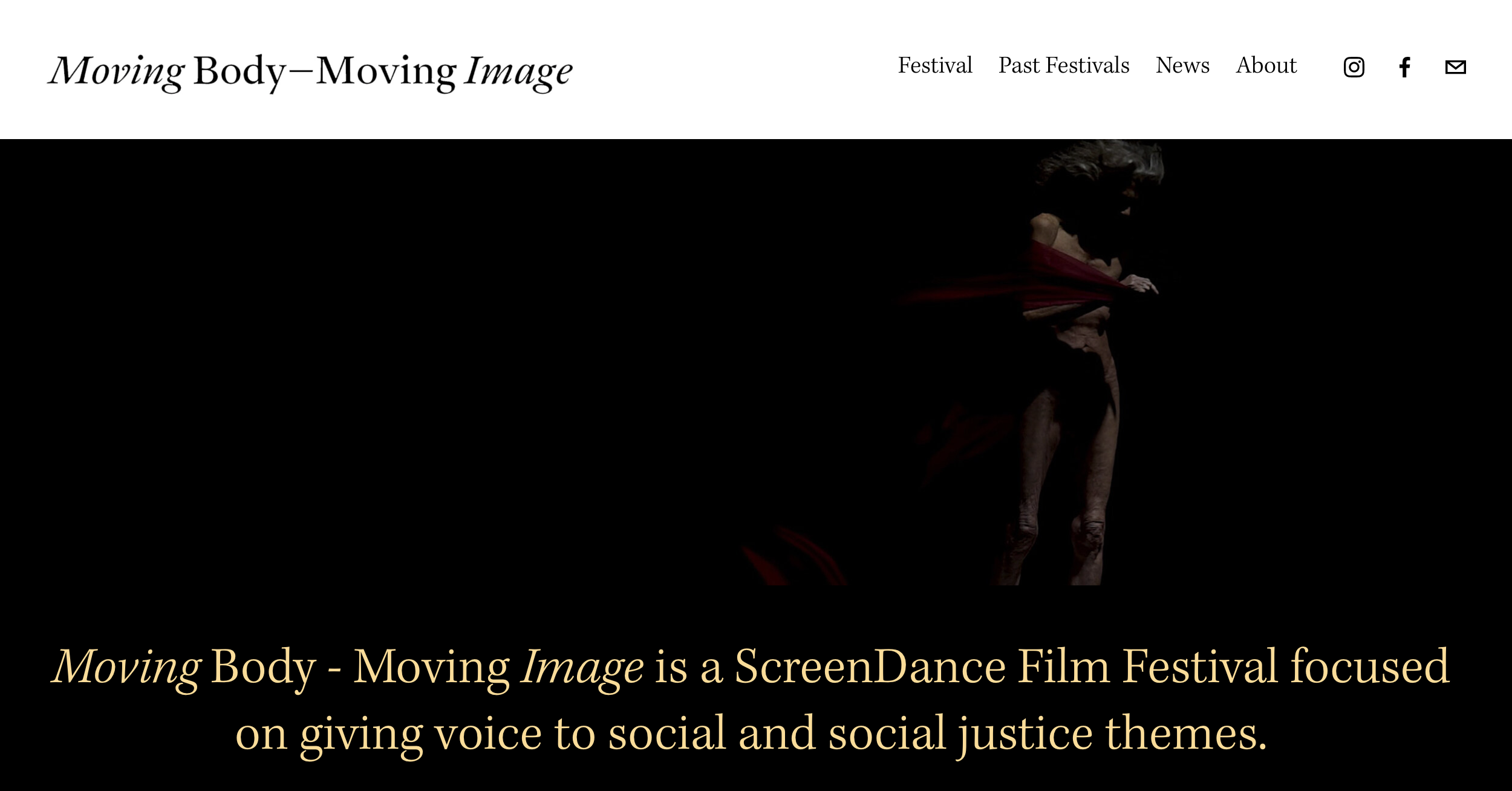 Moving Body-Moving Image 2020 Festival website front page & Festival poster.
(Please double click on images for more information.)
The
Moving Body–Moving Image Biennial Festival
gives voice to social and social justice themes in the hybrid form of dance filmmaking, known as ScreenDance. The Festival was founded in 2018 by Gabri Christa, who is also the curator. Each Festival includes film screenings, installations, and roundtable discussion with guest speakers.
The
2020 Moving Body–Moving Image Festival
, while initially conceived as a live event, was moved to place completely online, taking advantage of widespread and freely accessible platforms to help ensure equitable access. The
2020 Festival
focused on representations of
Aging & Othering
on screen and in society, and its astonishing reception proved how important showing curated films around a social theme can be (11,231 Festival Page visits and 5,265 views from a total of 61 different countries).
Allison worked as Assistant Producer and Website Designer & Developer for the Festival. As Assistant Producer, they pre-screened over 200 film submissions and corresponded with filmmakers, jury members, speakers, and festival participants in person, over email and over the phone. The decision to move the Festival online in response to COVID-19 made it necessary for Allison to design and create the website in under two weeks. Since then, they have maintained the website, including adding periodic Special Offerings. The full Team can be found on the
Moving Body - Moving Image Website
.
---

uncovering my movement biases with motion capture



Dancing with My Data: Dancing with My Self, choreographed by Allison Costa and performed at Barnard College's Senior Creative Thesis Dance Concert, March 2019. Photos by Jo Chiang.

Exploring cyclical feedback between creativity and computation, Allison used the Perception Neuron and Kinect motion capture devices to record themself improvising a total of 27 times. All projections are unanimated renderings of that motion capture data, which they analyzed until they were able to calculate 4 trends consistent throughout their improvisations. The graphs depicting these trends are also projected. Everything you see is Allison's actual movement, with their live structured improvisation emphasizing the tension generated from a hyperawareness of their movement biases.
Choreographer: Allison Costa

Music/Musician: "Beasts of the Southern Wild Redux" original music by Dan Romer and Benh Zeitlin remixed by Allison Costa

Performed by: Allison Costa

Lighting Design by: Tricia Toliver

Projection Design by: Guy de Lancey and Allison Costa

Creative Advisors: Guy de Lancey, Gabri Christa and Caroline Fermin

With Appreciation for Technical Advice: LaJuné McMillian