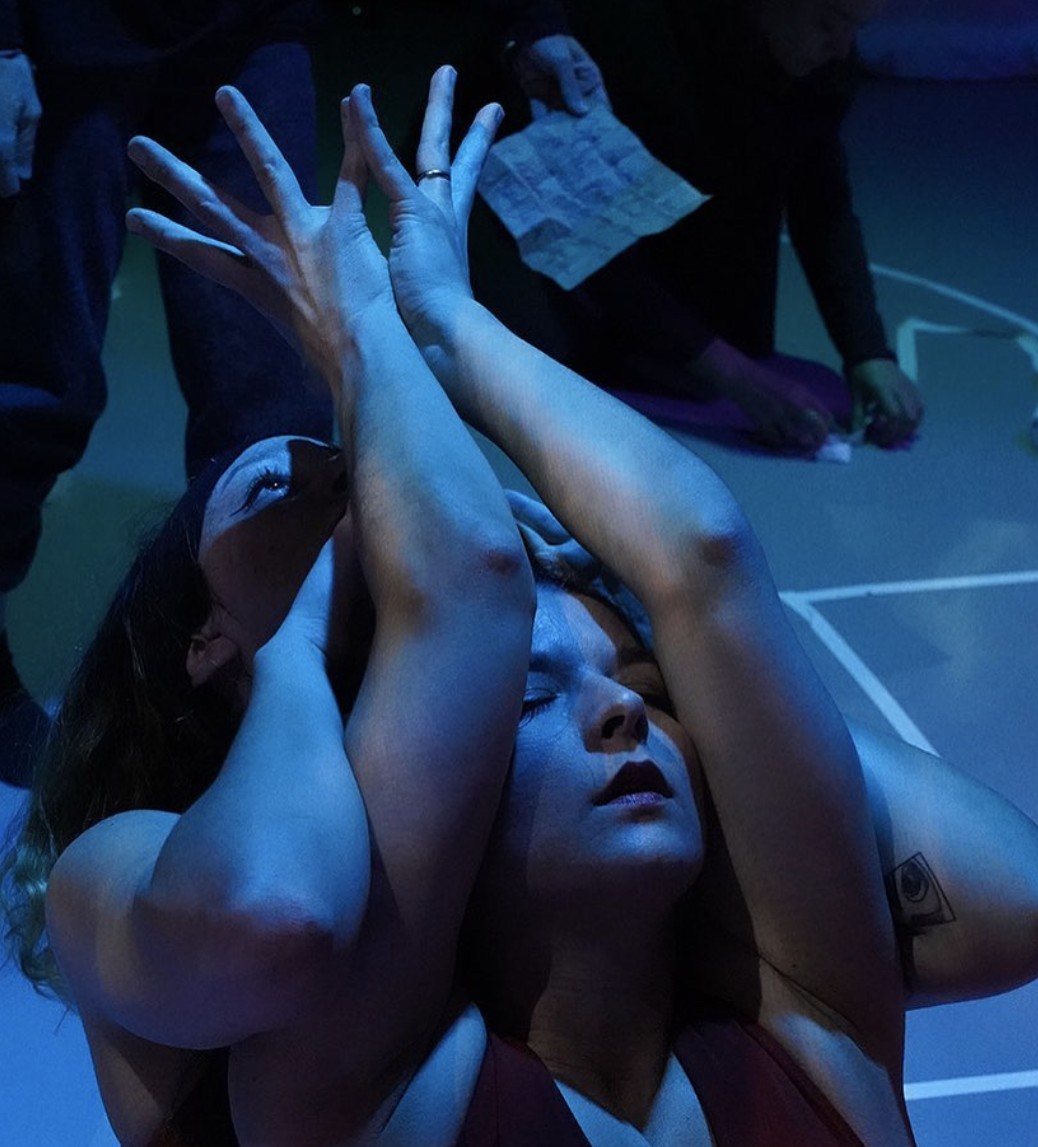 Livable Futures: Climate Gathering open rehearsals at Barnard College's Movement Lab, January 2020. Photos by Guy de Lancey.
The Livable Futures project was in residency at Barnard's Movement Lab January 13-17, 2020. Norah Zuniga Shaw, the Movement Lab's Winter Artist-in-Residence, and her creative team worked on interaction design for their
Livable Futures: Climate Gathering
transmedia performance rituals.
Livable Futures
in an international grassroots network of artists, scholars and activists seeking to share resources and foster creative solutions to survival under planetary conditions of unpredictability and crisis. Climate Gathering integrates performance and community dialog to turn toward climate change and create space for feeling into action. Climate Gathering creates a charged charismatic space for facing loss and finding communion.
Learn more.
Allison worked as the Movement Lab's lead creative technologist, helping to restage and transform the performance ritual to fit the Lab's space and filling the role of technical director during the Open Rehearsals held on January 15th & 16th.
---
Gameplay demonstration video for Geomancer VR, designed, developed, and programmed by Allison Costa, Mark Rosenlof, and Cory Robertson.
Geomancer VR was designed, developed, and programmed by Allison Costa, Mark Rosenlof, and Cory Robertson as the final project for the course: 3D User Interfaces and Augmented Reality, Spring 2019.

Geomancer VR is an immersive game scenario in which users have to find different obstacles and defeat them using a myriad of different selection and manipulation interactions in order to ultimately collect all the gems and win the game. The concept was based on the franchise "Avatar: the Last Airbender" and is unique in its innovative interactions that bring to life and build upon many of the Earthbending capabilities shown in the popular television show. Utilizing the Windows Mixed Reality headset for a highly immersive experience, the user navigates the space and can manipulate the earth using the two handheld controllers, exercising with a full six degrees of freedom. The distinctive interaction techniques combined with travel and wayfinding methods allow the user to overcome several impediments built into a challenging scenario set in a village.
---

uncovering my movement biases with motion capture



Dancing with My Data: Dancing with My Self, choreographed by Allison Costa and performed at Barnard College's Senior Creative Thesis Dance Concert, March 2019. Photos by Jo Chiang.
Exploring cyclical feedback between creativity and computation, Allison used the Perception Neuron and Kinect motion capture devices to record themself improvising a total of 27 times. All projections are unanimated renderings of that motion capture data, which they analyzed until they were able to calculate 4 trends consistent throughout their improvisations. The graphs depicting these trends are also projected. Everything you see is Allison's actual movement, with their live structured improvisation emphasizing the tension generated from a hyperawareness of their movement biases.
Choreographer: Allison Costa

Music/Musician: "Beasts of the Southern Wild Redux" original music by Dan Romer and Benh Zeitlin remixed by Allison Costa

Performed by: Allison Costa

Lighting Design by: Tricia Toliver

Projection Design by: Guy de Lancey and Allison Costa

Creative Advisors: Guy de Lancey, Gabri Christa and Caroline Fermin

With Appreciation for Technical Advice: LaJuné McMillian
---
The
Barnard College Movement Lab
is a flexible modular space for movement research, exploration, production, collaboration, and interdisciplinary interaction. The Lab's trans-media function serves to enhance critical thinking and learning through body and brain connection as it seeks to explore emerging trajectories in art, science and technology.
Allison works as Post-Baccalaureate Research Fellow of the Movement Lab. They are in charge of website design and development, with thanks for the input and support from the rest of the Movement Lab team. In Fall 2019, they overhauled the website and have since maintained and added to it including a
page for the 2020 Moving Body-Moving Image Festival
and an
archive for all past events
. In 2020, they designed the fully online
Virtual Lab
to help support remote programming, which consists of a
COVID-19 Resource List
,
Prompts
,
Artist Features
, and
Artist Interviews
. In addition to web design/development, Allison assists with programming, administration, artist relations, and project development. This includes
planning and running workshops/events
, collaborating with
Artists-in-Residence
, working closely with students, as well as creating an independent research project.
---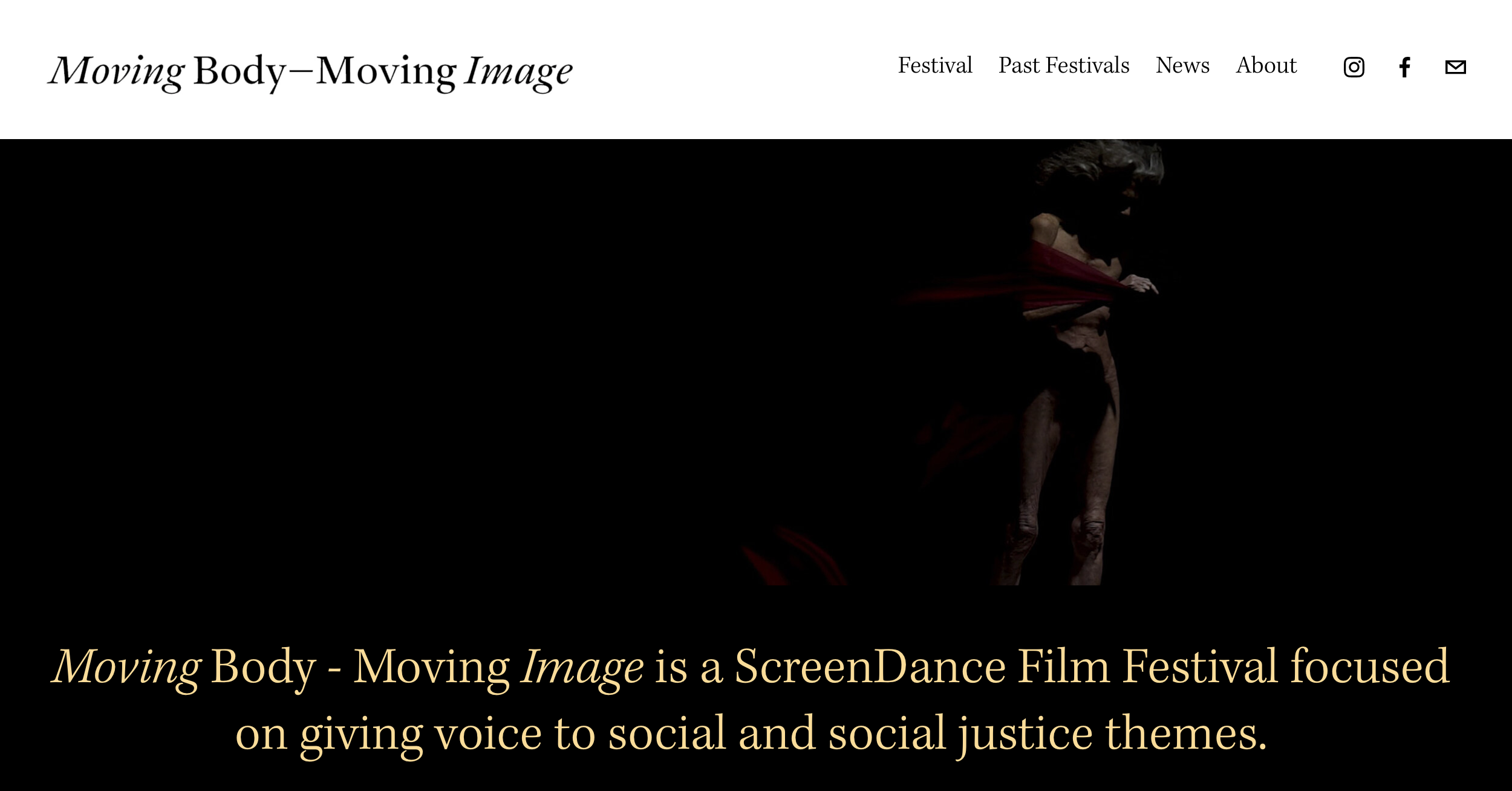 Moving Body-Moving Image 2020 Festival website front page & Festival poster.
(Please double click on images for more information.)
The
Moving Body–Moving Image Biennial Festival
gives voice to social and social justice themes in the hybrid form of dance filmmaking, known as ScreenDance. The Festival was founded in 2018 by Gabri Christa, who is also the curator. Each Festival includes film screenings, installations, and roundtable discussion with guest speakers.
The
2020 Moving Body–Moving Image Festival
, while initially conceived as a live event, was moved to place completely online, taking advantage of widespread and freely accessible platforms to help ensure equitable access. The
2020 Festival
focused on representations of
Aging & Othering
on screen and in society, and its astonishing reception proved how important showing curated films around a social theme can be (11,231 Festival Page visits and 5,265 views from a total of 61 different countries).
Allison worked as Assistant Producer and Website Designer & Developer for the Festival. As Assistant Producer, they pre-screened over 200 film submissions and corresponded with filmmakers, jury members, speakers, and festival participants in person, over email and over the phone. The decision to move the Festival online in response to COVID-19 made it necessary for Allison to design and create the website in under two weeks. Since then, they have maintained the website, including adding periodic Special Offerings. The full Team can be found on the
Moving Body - Moving Image Website
.